Welcome to Day 3 Superstar!
Now that you know where you're going and what it feels like to be the successful, fully supported version of you, it's time to explore the best way to communicate your message to the world.
First: watch the video (or click here if you can't see the video) – and YES I call it Day 4 in the video, but it's really Day 3. I don't know what I was thinking….  😂
Next: Download the Day 3 PDF
(don't forget to save it to your computer before filling it out!)
ACTION STEPS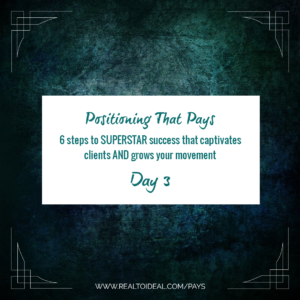 Your INNER work for today: Let's get real about engagement fears for a second here. Being nervous or even panicked about public speaking doesn't mean you wouldn't looooooove it once you got over the initial stage fright. If you thrive on other's people's energy and attention, but the idea of stepping on stage twists your stomach into knots, it might be worth it to work through the stage fright and find out if you love talking to a room full of people. So try not to rule anything out that could be a potential joy once you've gotten the hang of it.
Look at that last list and ask yourself – does this drain me because it goes against my natural communication style or is it simply fear that I can work through? Make sure there isn't something on your drain list that would fit on your energize list once you conquer your fear of it.
Your OUTER work for today is to use your BEST communication style to connect with your audience. Using your best communication style, post something new on your biz page or personal page. Then go into the Superstars group and connect with 2 people using a communication style from your "energizes" list and 2 people in any other group of your choice. For example, if your best style is writing and your list also includes commenting in groups, then write something to engage with your following (maybe write an email or blog post) and send it/publish it. Then engage with the comments.  If your best style is face-to-face, invite someone to a coffee chat, either in person or on Zoom/Skype.
Bonus points for using 2 communication styles from your list – one to get people's attention and the other to connect 1:1.
ALSO ~ post in the Superstars group what your top communication styles are and how you will use them to engage with your following. If you're confused about the best way to leverage your communication style, let us know in the group so we can support you.
You can post on any social media site, email your list, post to your own blog, meet with someone via Zoom, go to a networking event or anything else.
Questions?
If you have any questions at all, pop over to the group and let me know. I'm happy to help you rock this challenge!