Welcome to DAY 1! Are you ready to position your business for maximum impact and income?
Today we're going to start with the heart and soul of your business – YOU! This first step is absolutely necessary for attracting the RIGHT clients. I'll explain why in the video:
First: Watch the video (click here if you can't see the video)
Next: Download the Day 1 PDF
(don't forget to save the PDF to your computer before filling it out!)
ACTION STEPS: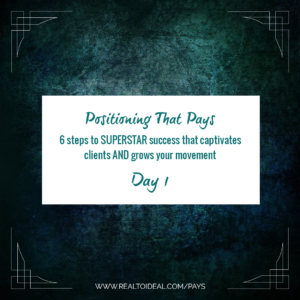 Your INNER work for today is to dig beneath all the masks you've been wearing to please others and daydream about who you want to be in your business because this is definitely the place for you to be 100% YOU! Bust out your journal (or notebook, Google doc or whatever you want) to write down everything that comes to mind. Include the activities you'd do and how you'd spend your time. Include how it feels to be fully supported with no expectations and know that everything is taken care of.
Your OUTER work for today is to post something in the Real To Ideal Superstars group about what you discover. You could post a photo of the hotel you'd choose and tell us that this is on your to-do list for next year. You could share a story about the person you visualized as your future self. You could describe who you're becoming and how she spends her time. Or you could pick one of her new habits and commit to turning that into a real-life habit this week and announce your goal publicly for support and accountability.
Whatever you want to share, this is YOUR exploration and there are no expectations beyond doing the work and then posting something about it.
Questions?
If you have any questions at all or if you find yourself struggling with this, pop over to the group and let's work on this together!