Real To Ideal Summer Camp
Get ready for a summer full of FUN and SALES!!
Showing up on social media is important to reaching your ideal clients and connecting with them.
But showing up on social isn't enough to create consistent income every month.
You'll get BIGGER results with less effort if you have a sales system that moves your fans from social media and into your programs or products.
That way you can use social media for FUN and get consistent sales from your sales funnel.
You need BOTH to run a successful business that pays the bills consistently every month.
Which means you need a solution that will help you reach your ideal clients on social media AND get better results from your sales funnel!
I know, I know! Sales funnels sound so boooooring!!!
But they don't have to be!
And they're the KEY to getting off the social media hamster wheel and creating consistent monthly income all year round.
SO, to make it easier and more FUN ~ we transformed our membership group into an online camping ADVENTURE!
Let THIS be the summer you remember as the turning point in your business!
PLUS, building a successful sales funnel now positions you for bigger income before winter.
What would you do with more time and money this winter?
2 months of step-by-step trainings
Each week focuses on one topic, split into 2 lessons so you can work through at your own pace.
Each step is carefully organized so that each piece is ready when you need it.
2 months of group support
Go as fast or slow as you prefer.
We'll be doing each week live together as a group, but we'll be there to support you with questions from any part of the training at any time.
A team of experts ready to help
Nothing's worse than doing the work and then getting stuck in that same rut that always gets ya.
Whether it's mindset, strategy, words, or tech, we want to make sure nothing slows you down during our 8 weeks together.
So we assembled a team of experts to help you get unstuck and back on track quickly!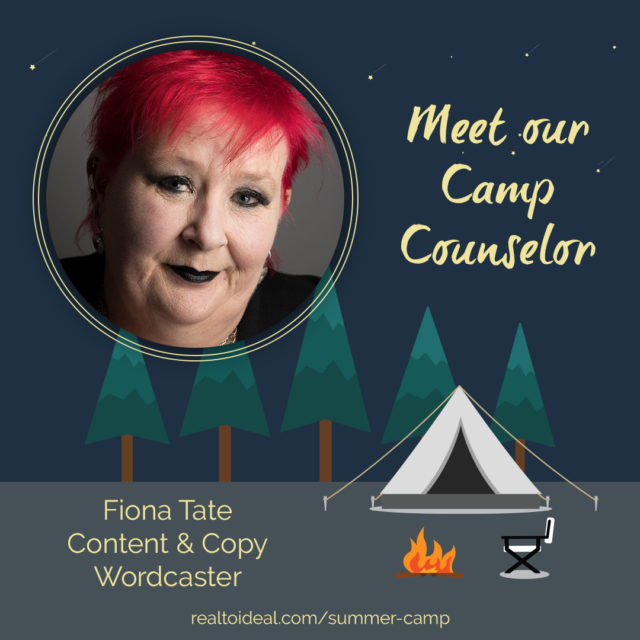 2 months of social media prompts
No more wondering what to talk about or post!
Daily content prompts aligned to match where you are in your sales funnel creation so that your fans are already lining up when you open the cart!
A toolbox full of templates, scripts, & more
Canva templates for social media posts, Stories, promos, and more.
Plus curated stock photos organized by theme to save you TONS of wasted scrolling time!
Whatever graphics you need for your social media posts, we've got a tool for that.
Wherever you are in the world, we're bringing the campsite to you!
Together, we'll help you build a successful sales funnel that you can use again and again year round to make consistent income.

Social Media Success
Learn how the algorithms decide which posts to show and which ones to ignore so you can play the game to win!
Learn how to get the RIGHT people engaging with your posts and how to snowball that for even more engagement.
Snag our innovative tactics for getting your posts in front of IDEAL fans/followers/clients ~ with AND without paid ads!
Learn a better way to sell on social media so you never offer a flash sale, discount, or feel like you're over-promoting again!
Our social media tactics will help you tap into what your audience REALLY wants to hear, boosts engagement, and warms up dreamy prospects so they show up to your sales offers ready to buy!
The hidden benefit of this is you'll have more FUN on social media and you'll believe in your own ability to get results every month.
Sales Funnel Success
We'll start off by growing your audience, attracting the RIGHT people, and building the foundations of your sales funnel.
Use my favorite techniques for purging all the doubts & self-sabotage so you can sell with confidence and clarity!
How many pieces does your sales funnel need to succeed? What should you talk about? How can you increase conversions? How can you overcome objections? All of this will be spelled out in easy-to-follow steps that can be customized for ANY business. Plus, we'll be there to answer questions and help you tailor it for YOUR unique situation.
Once you rev up your new & improved sales funnel, all you need to do is keep feeding it with prospects and it will keep your offers filled with ideal clients. To fill it, all you need to do is stand out and shine on social media (or show up in search results).
By the end of the 2-month sales funnel training, you'll have a fully functional funnel you love and continue using all year round. You'll also have an engaged following of ideal clients. And you'll have money showing up in your bank account.
Which means you'll finally be able to go after your BIG dreams! The ones where you save the world, make a difference, pay off all your debt, and move somewhere that speaks to your soul. 🌎
What YOU need to make this succeed ~
A clear idea of who you want to attract.
😍 You need to know who you want saying YES! to your offers.
We're going to guide you through the rest.
It HELPS if you have a sales page.
But if you don't have that yet, we'll guide you through creating one.
You also have the option of hiring our team to write it for you and get it done quickly.
🔥 If you already have a fully functioning sales funnel, but it isn't working as well as you'd like, this sales funnel side will show you where the leaks are so you can fix them.
🔥 If you already have a sales funnel that works, but you have trouble filling it with dreamy clients you love working with, then the social media side will help you get your posts in front of the RIGHT people.
✨ Plus, the prompts are designed to go through a process of attracting ideal clients, engaging them, bonding with them, warming them up for a sale, and then, when they're hungry to say yes, leading them to your sales funnel.
With the social media prompts, templates, and scripts, you'll be able to easily create content that STANDS OUT and gets the attention of your best clients.
All this, AND the perks of doing it live with us ~ for more fun, excitement, transformation, and sales!
What WE bring to camp to help you succeed ~
The marketing tools you need to go after those BIG dreams.
📚 A step-by-step process for rocking your mindset, sales page, client attraction content, conversion content, social media content, and more.
💌 Templates, stock photos, content prompts and more to help make the process easy so you don't feel stuck!
🗓️ A social media calendar that shows you what to post and when to attract, warm up, convert, and invite your fans to buy.
💃 A team of experts in marketing, copywriting, graphic design, and more to help you with free advice, feedback, and support, with the option to hire them to actually create content for you if you need more help.
🏕️ FUN! Each day of these 8 weeks will be filled with fun so that you stay pumped, enjoy summer, and truly feel like you're part of an awesome party of rockstar bosses!
Even if you're the biggest introvert on the planet (like me!) you'll love this event because it's easy to plug in where you need help, and unplug when you need space.
It'll be FUN, not draining.  :)