What is Facebook's new Customer Feedback Score and how can you take advantage of it to outperform the big names in your industry?
It's a new feature that Facebook is rolling out between now and September 2019 that will have a BIG impact on all advertisers who sell products or services (regardless of the size of your ad spend).
Which means now is the perfect time to learn this feature and position your business as a (r)Evolutionary leader so you stand out for the right reasons once it's fully implemented.
If you've ever felt overwhelmed by Facebook's frequent algorithm changes or felt invisible in the crowded marketplace full of big names with big budgets ~ this is something for you to get excited about too!
What Is The Facebook Customer Feedback Score?
People who buy goods and services online from companies engaged in Facebook advertising are going to start seeing a prompt in their notifications to leave feedback about their purchase experience.
The social media platform will give customers a chance to rate their experience based on factors like how well the quality met their expectations, how quickly they received it, and more.
Leaving positive feedback will increase that company's standing in the eyes of Facebook and they'll enjoy all the benefits of being on the good side of Facebook's algorithm.
Negative feedback will result in a lowered standing and, in worst cases, could get that company banned from using Facebook ads in the future.
This rating could literally make or break your ability to advertise on the Facebook Ad Network!
Unlike customer feedback ratings on sites like eBay, this score won't be visible to the public. But it will be available to the business owner, marketing team, and anyone who has admin access to the Facebook Page associated with the Ads Account.
But more important than how the business looks on the outside, this rating will affect the future success of that Page's reach, engagement, and success of their posts and ads.
Which means ~ stay on Facebook's good side and you won't have to spend as much to get results!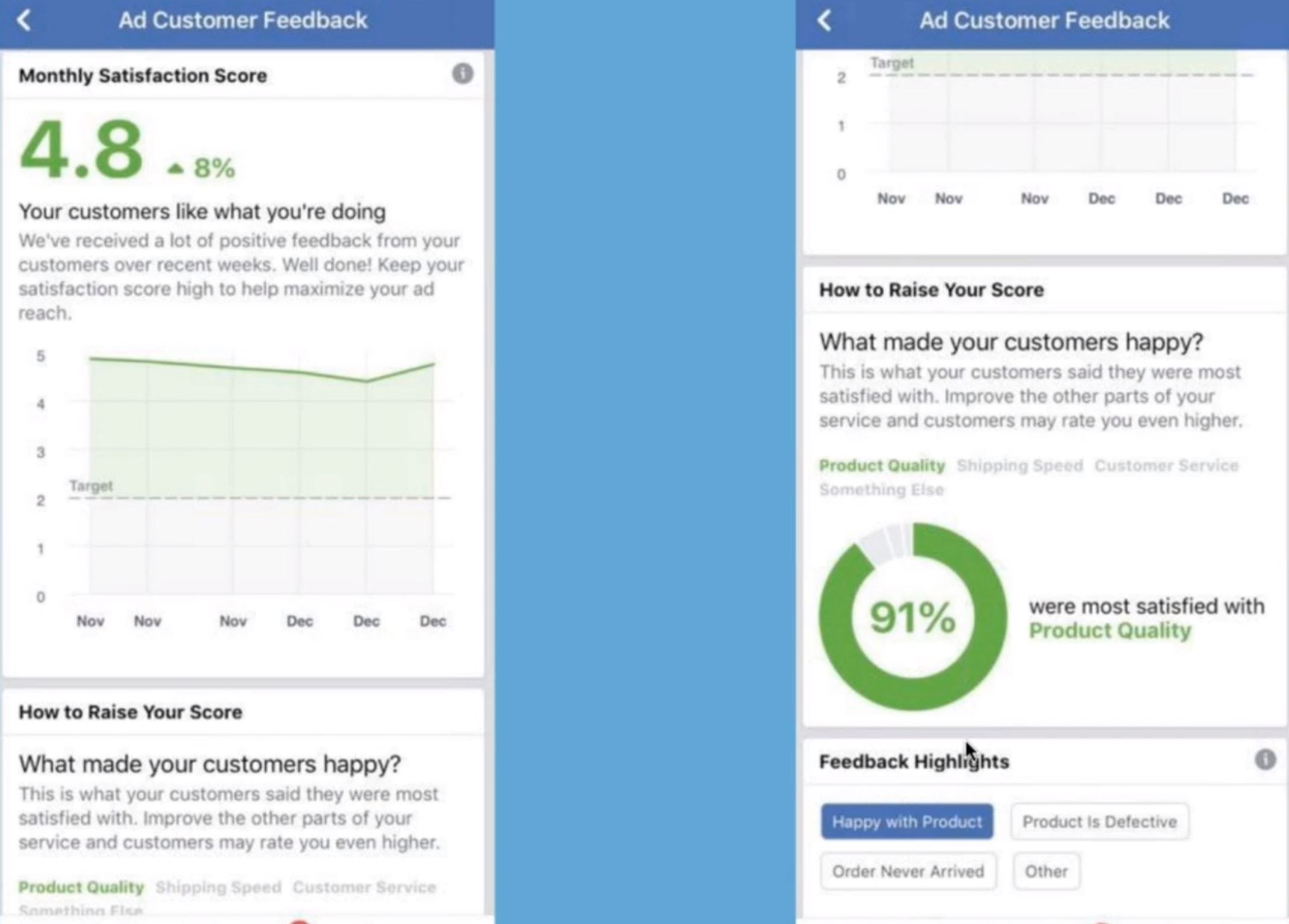 You can also learn more about how customer feedback impacts your ads, how to track customer feedback, and how to improve customer feedback on the official Facebook Business Help Center page.
How The Facebook Customer Feedback Score Opens A Door For Authentic Businesses
At Real To Ideal, we LOVE finding and using opportunities where authentic marketing outperforms traditional marketing.
Because authentic businesses make the world a better place and we'd like to see them replace the businesses who put profits before people!
That's why the businesses we work with are focused on the impact they're having as much as the income they're generating.
They truly care if their clients use the product/service and they care about helping their clients get the results promised.
And that's where this particular opportunity really helps them shine.
For businesses who stop nurturing and investing in its customers once the sale is over, those customers may experience a type of high during the sales pitch that has them running for their wallets with glee to make the purchase.
Which is how you want your customers to feel when they're buying your stuff!
But what happens next is crucial.
Doubt starts to set in.
The reality of not having that money to spend on something else starts to take hold.
And that initial high comes crashing down.
Sometimes leading to buyer remorse and refund requests.
And that's right when that Facebook notification is going to show up, asking for feedback!
How To Raise Your Customer Feedback Score
If you're an authentic business with integrity, you're already using enlightened marketing in the first place to connect with potential clients and build a relationship between them and your brand.
Which means your clients will be happy to share how much they LOVE buying from you and that feeling will still be strong long after the initial high they got from your sales pitch.
Because enlightened marketing doesn't stop at the sale. It uses marketing to deepen the relationship between your brand and your customers.
It keeps them engaged and coming back for more.
And it keeps you top of mind when someone else in their circle is looking for solutions.
Enlightened marketing keeps them excited about you, your brand, and your products. Because it values the relationship you've worked so hard to create leading up to the sale.
Which means, when Facebook shows up in their notifications asking for feedback about their recent purchase, they're going to rave about you.
And that's going to make it easier for you to keep playing in Facebook's playground!
Use Enlightened Marketing To Get Positive Feedback From Customers
So let's explore a few different ways your marketing will ensure your customers leave positive feedback.
Make sure you have the FB pixel installed on your Thank You page after the sale.
The easiest way to let Facebook know who has made a purchase is simply having the pixel set up correctly on your Thank You page.
Only people who successfully purchased your offer will reach that page, so this is a clear signal to FB about who should get the request for feedback.
Use your Thank You page to deliver the first morsel.
Whether you're selling a physical product that won't show up for another week or a digital download that will hit their inbox within 10 minutes, give them something awesome on the Thank You page.
Give them something that makes them feel really good about their purchase.
Bonus points if you use this first interaction to get them engaging and participating in some way.
Studies show that people who engage right away after gaining access are more likely to continue engaging. Which means those are the people more likely to use your product, get results, and share success stories with others.
Use retargeting ads to continue the conversation and deepen your relationship with them after the sale.
Too many marketers think of retargeting ads as a way to retarget people who abandoned their cart without completing the sale or watched a video but didn't opt-in, or opted-in but didn't buy.
Retargeted ads are a FUN and a meaningful way to connect with people who recently invested in your offer.
It feels good to see that brand make the effort to say hi again after the sale. It shows the client that they're more than a transaction. It feels more human.
It leaves them with the warm and fuzzies that will influence their decision to buy from you again in the future, tell their friends about you, and leave positive feedback for you.
Give them an option to tell YOU if there were any issues before Facebook asks.
Make sure your clients know how to reach you if there's any kind of issue with the product/service. Show them that you're available and approachable.
Tell them that you want to know if it arrives defective or broken or the link doesn't work or they can't find the email that has the link to access the program.
Give them a channel to complain to you before Facebook opens that channel and uses that feedback against you.
You can use retargeting ads for this too!
Show up in their feed with a video of you asking about their experience. Put a link in the ad that they can click if they need assistance or customer service to fix a problem.
You can also use the messenger button in your ad and let them message your page directly.
Or set up a messenger bot that will message them right away if they leave a comment with any of a list of trigger words. (And then use the video to prompt them to use those words in the comments to get immediate help.)
The Future Of Digital Marketing Will Reward The Businesses Who Care
As you can see, this year, more than ever, you want to use all the tools in your toolbox to keep customers happy and engaged after the sale.
You can use emails and Facebook ads to retarget customers to keep them engaged and deepen your relationship in the first few weeks after they've purchased.
Let them know they're part of the family now instead of a transaction that no longer needs nurturing.
Create bonuses that they'll get after they've purchased to reignite that initial high of getting something new and shiny to help them succeed.
Or send them thank you notes in the mail if that's more on-brand for your business!
There are as many ways to keep customers happy as there are businesses on Facebook. Get creative and have fun with it!
Need help setting up systems that nurture your clients after the sale?
Or just want ideas for after-care thank you's that are authentically on-brand that will delight your new customers?
Reach out and let's chat about how enlightened marketing can take your business to the next level of success for both you and your delighted customers!
You can contact us anytime on the Real To Ideal Facebook Page or using this Contact Form to email us directly.